LATEST POSTS
Did you know that one of the biggest jackpots in the online gaming world was won just last week? Hall of Gods game made one lucky Swedish player gasp as the bonus round ended with €3,85 million on the player's account. As we heard about the win we instantly began thinking what will the winner do with so much money.. Do you already have clear plans in case you win the jackpot?
At the moment the biggest jackpot is in the videoslot The Dark Knight. Join Batman in the hunt of Joker and his €2,93 million bag of jackpot money. In the Dark Knigh game you never know when you get the chance to spin to bonus wheel and have the chance to win millions. This is why players really love this game.
If you think that Batman and Joker are both quite lame, you can try your luck in Mega Moolah (jackpot €2,8 million by the way) that is full of cute wild animals that make you smile, no matter what. That giraffe with purple eye shadow is by far our favourite.
The Premier League train rolls on and if we've had some strange old results so far, things were back to normal this weekend.
City struggled to break through the Villa-wall for much of Saturday evening's fixture, but with 10 minutes left on the clock, Yaya Toure found a gap a slotted home a much deserved leading goal. Aguero made it two with a few minutes left and that was all she wrote.
Manchester United can thank David De Gea for their three points against Everton. Not only did he save a Leighton Baines penalty as the first half was drawing to a close, he made three match-winning saves in the dying moments of the match.
Even Liverpool was back on track against West Brom, not without giving it their all though. However, Lallana's tip-toing through Brom's defense saw the reds take the lead just before half time. Teams in a rut often don't get anything for free, so no Liverpool supporters were surprised when Lovren's challenge on Berahino just outside the box was deemed inside by the ref. Berahino converted, but unlike most of this season, Liverpool bounced straight back. Henderson smashed in the winner just minutes after the equalizer.
Spurs hasn't played very well so far this season, but Christian Eriksen's crucial strike secured an impressive win against high-flying Southampton who in turn will regret missing a few sitters at White Hart Lane. Hull had no problems against Crystal Palace
West Ham vs QPR made us yawn, as the Hammers grabbed a much-expected 2-0 win. Swansea will regret letting Toon grab a point in their match, as will Leicester. Ross Wallace curled in a stunning free kick, 5 minutes into stoppage time. Sunderland and particularly Steven Fletcher were very convincing at home against Stoke. Even Connor Wickham is blooming!
And finally, Sunday's big match at Stamford Bridge was exciting for all the wrong reasons. Even as Eden Hazard strolled through a passive Gunners defense and went down, questions were asked as to whether Koscielny should've been sent off or not. The raid itself was stunning. A few minutes earlier, Wenger and Mourinho went toe to toe over Cahill's challenge on Sanchez. A red card seemed likely, but the England international was let off the hook with a yellow. So was Welbeck, the his two-footed challenge in stoppage time threatened to severely injure Fabregas. Costa had already sealed the win for Mourinho after a brilliant through ball from said Fabregas, the Arsenal reject.
Have fun in the international break, we'll dish out some awards and see you in a couple of weeks!
Hero Award: David De Gea
Penalty save, match winning stops and a true savior for Manchester United. Important three points.
Villain Award: Datguy Welbeck
Holy smokes, that challenge! With his head up his rear end, Danny Welbeck tried to break Fabregas' leg in stoppage time at Stamford Bridge. A horrendous tackle which amazingly did not result in a sending off.
Team Award: Liverpool
Flawless Chelsea could've got this one, but Liverpool bounced back after a couple of terrible performances. They are starting to look somewhat like the Liverpool from last season now and with upcoming fixtures against QPR and Hull, this could be the start of a good spell for Rodgers' disciples.
Goal Award: Ross Wallace
Well, 5 minutes into stoppage time, Scottish winger Wallace stepped up and saved a point for Burnley. A great finish and my, oh my, what an important point that could turn out to be. Burnley needs every point they can get.
Guts' Gripe of the Weekend: Wenger on tilt
And no hand-shake from Mourinho after the match? Well, to be honest, it just gave the big game a much needed talking point. The game itself was just half-interesting
When In Rome…
Although City are not in Rome tonight, they're of course hosting Roma at the Etihad Stadium. It's a vitally important fixture for the champions of England as another slip up could result in them having to play serious catch-up on both Roma and Bayern in the hope that one of them slips up when they play each other.
However, it would appear City, as a team, are far wiser than that now and they will be hoping that they can ruthlessly dispose of any threat the Italian side pose to them, especially with home advantage as well but City will definitely need the crowd behind them as a number of the endlessly noisy Roma 'ultras' have made the journey and they will be hard to drown out.
We'll Always Have Paris
Paris St. Germain and Barcelona do battle tonight, each looking to gain the upper hand in Group F and of course PSG will be looking to get more than the point they secured against Ajax on the first match day. Barcelona do look more solid under the stewardship of Luis Enrique, evidence being they have scored 17 goals in La Liga whereas they haven't conceded any as of yet and are seemingly looking to drive a wedge between themselves and their past over reliability on Lionel Messi – Neymar alone has scored 6 league goals this season to Messi's 5.
Liverpool in Basel
Liverpool will head to Basel with a win under their belts at home over Champions League newcomers Ludogorets. However, the trip to Basel will be a completely different experience, in what is sure to be a fiery atmosphere and a Swiss team that will be fired up following their collapse against Real Madrid in their first group game.
Liverpool will want to come away with at least a point as their next game vs. Real Madrid will not be the one to bounce back on if they're in need of a win. Mario Balotelli and co will look to spring one or two surprises and will also look to come away with the win and 3 points that Liverpool will want badly.
Ludo Who?
Ludogorets put up a valiant fight in their opening group stage match vs. Liverpool at Anfield but ultimately came up short when they deserved so much more. It'll be interesting to see if they keep up the same attacking instincts when they face European champions Real Madrid on Wednesday night.
Arsenal Need A Win
One thing is for sure as far as English sides are concerned and that is Arsenal need to win their game vs. Galatasaray. Having suffered terribly in Dortmund on their opening foray into this seasons' competition, Arsenal need to inject a bit of verve and added steeliness into their play if they're to progress anywhere this season.
The third part of our Football XI series, this version will focus upon creating a football XI based on Disney characters. The footballers featured, will of course consist of football's greatest and football's…journeymen. It will, however, be an XI that, when it steps out over that white line, will give it's all to the cause!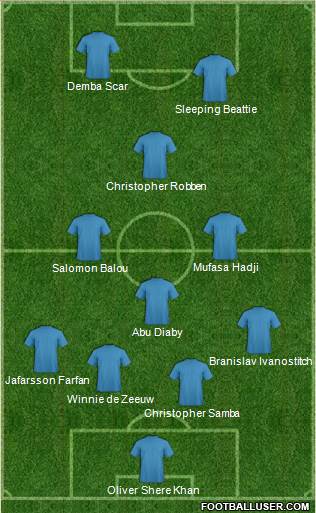 MANAGER – King Louie van Gaal
King Louie is of course the manager to implement a 'philosophy' within this side and will work wholeheartedly to ensure that the team doesn't make any cartoon errors and instead produce some stunning football along with some stunning results.
GOALKEEPER – Oliver Shere Khan
Kahn is the epitome of a crazy goalkeeper. The former German international enjoyed a stellar career and was obviously a tiger when put in a 1v1 situation with strikers. Of course, he is best remembered for being the goalkeeper of German giants Bayern Munich where he won numerous honours and also proceeded to frighten the life out of opposition strikers.
RIGHT-BACK – Branislav Ivanostitch
Known as one of the Premier League's staple right-backs and of course a dead-cert in any Jose Mourinho team. Despite standing at 6ft 1in and considered to be a very solid defender, he sometimes displays an unwanted side to his game involving some unsavoury antics; very Stitch like!
CENTRE-BACK – Christopher Simba
Also known as a big and athletic defender of some European pedigree. He has graced numerous clubs including Blackburn Rovers, Queens Park Rangers, Anzhi and currently, Dynamo Moscow.
CENTRE-BACK – Winnie de Zeeuw
A strong Dutch defender, de Zeeuw is a player who graced the lower leagues before reaching the holy grail of Premier League football for Portsmouth under Harry Redknapp in 2004 and then Wigan in 2005.
LEFT-BACK – Jafarsson Farfan
Probably viewed as an unusual position for Farfan who, considered an outrageously fast winger, is probably not used to being tasked with left-back duties. However, considering his engine, he's considered to have the stomach for the role.
CENTRE-MIDFIELD – Mufasa Hadji
Hadji is a name that harks back to the days of Graham Taylor at Aston Villa and Gordon Strachan at Coventry City. Hadji, of course, played for both Midlands clubs and became somewhat of a cult hero.
CENTRE-MIDFIELD - Abu Diaby
Diaby has been plagued by injuries for a number of seasons and of course has been out of the running in Arsenal's midfield allowing for players to move ahead of him in which he has now become somewhat of a squad player within the Gunners squad.
CENTRE-MIDFIELD – Salomon Balou
He simply had the bare necessities to make it at a club like Chelsea while scoring a number of goals for them in quite important games too. While scoring regularly in Holland for Feyenoord brought him to the attention of Jose Mourinho in 2006, he never quite nailed down a permanent spot within the team while in his best season he played 41 games and scored 13 goals in all competitions.
FREE-ROLE – Christopher Robben
Robben is one of the world's best players. When on form, there are relatively few people apart from maybe Lionel Messi and Cristiano Ronaldo who can scare defenders when running with the ball. As he displayed in World Cup 2014 for Holland, the free-role suits him down to the ground.
CENTRE-FORWARD – Demba Scar
A powerful centre-forward he gained a reputation for bulldozing his way through defences, particularly for Newcastle. At Chelsea, he didn't quite reach those heights but he is still a danger when given chances.
CENTRE-FORWARD – Sleeping Beattie
Beattie has always been a bit of a battering ram centre-forward, well he was, until he retired that is. He often appeared to be sleeping until he pounced on a defensive mistake and then a bullet header would fly into the net.
The Premier League never ceases to amaze me, or anyone for that matter. While certain games (yes we're looking at you North London and Merseyside) failed to live up to expectations, there were others that were genuinely exciting. But how did you do in your own exciting fantasy league? Are you ready for battle and also to secure those transfers before it's too late?
Gameweek 5 leader Temple Pilgrims managed by Ashley Temple still hold a lead at the top of the rankings, however, that lead has been cut to a narrow point over FC Banana Phone managed by Daniel S who with a gameweek total of 46 points, has put the pressure on the Pilgrims. Up into 3rd for the first time are 50 Shade's of O'Shea managed by Andy Martin who are 7 points behind 2nd place. Also big movers at the top are Spoonfork FC managed by Gareth Jennings who with a very good gameweek total of 40 points have managed to move up to 4th in the rankings while being only 1 point behind 3rd place.
At the other end of the table, Guts Gaming have slipped to 142nd in the rankings after a gameweek total of 38 points making a total points accumulation of 244. The Sportsbook are obviously making a play for the title after a superb gameweek total of 54 points propelled them to joint 46th along with Golden Furryballs and PetrCechYourself.
FAMETASTIC are again bottom of the pile after a less than impressive gameweek total of 27 points while FavoTeam managed by Oleg O had a superb gameweek with 61 points but they are still 168th in the rankings.
Remember to grab your Guts sport bonus and get ready for next week's action from the Premier League.
Players who have made the transfer wishlist this week are somewhat surprising. Chelsea's Willian gains a place through acquiring 14 points while West Brom's Graham Dorrans, Craig Dawson and Saidi Berahino also make the list with fantastic gameweek totals. Crystal Palace defender Scott Dann also makes the list after his assist and clean sheet vs. Leicester City.
Fighting Spirit Hasn't Disappeared
Manchester United ensured they came away with a much-needed win and they defended pretty well when they needed to, especially after being down to 10 men for the last half hour. United fans are desperate for any semblance of the never-say-die attitude that epitomised the Sir Alex Ferguson era to rear it's head again and you could say it did at home to West Ham United on Saturday afternoon.
Consistency Is Key
Consistency is most certainly key, especially for promoted sides and Leicester City were brought back down to Earth at the weekend after their 5-3 heroics against Manchester United a week ago. Beaten 2-0 at Selhurst Park by Crystal Palace, they were unable to match the level of intensity as well as the clinical finishing of their historic result. Most certainly, Nigel Pearson has a talented and vibrant side, but he must pick up results against teams in and around them rather than rely on the odd wonder result.
Derbies Aren't All That
The two derbies this weekend seemed to struggle under the weight of expectation, particularly since it was the North London and Merseyside derbies. Traditionally, both games are non-stop, a controversy-laden, adrenaline-fuelled episode on and off the pitch but something just wasn't quite right with them right from the off. There was relatively little spark while there was significant effort on both sides in both derbies.
Burnley Lack Plan B
Burnley were comprehensively dispatched by West Bromwich Albion on Sunday and were left to rue an unadventurous approach, which seemingly is against everything manager Sean Dyche stands for. They went for the compact game-plan that in fairness worked for half-an-hour or so and then when West Brom scored, it seemed to hinder Burnley rather than help them find a way back into the match.
However, what is for certain is that Burnley need something other than 'keeping it tight' for such games as these are the ones they really need to win to have any chance of staying up come May.
Title Challengers March On
Chelsea kept up their early season relentlessness as they comfortably dispatched Aston Villa 3-0 at Stamford Bridge. It was that easy, Mourinho even had the gall to claim that star striker Diego Costa, who again scored, hardly trains! Hmm. We're not too sure on that Jose. However, the formbook looks ominous for those looking to stop the Blues this season, and at the moment, the only team who look to have the resources to do that are Manchester City.
City managed to come away from Humberside with a win after letting slip a 2-goal lead but they ruthlessly took their chances while denying Hull theirs in what was quite a close shave for the champions, they however have the experience within their team to close out games.
Well one thing that cannot be said of the Premier League is that is does not disappoint. This weekend was again a spectacle to behold, however, this was from sources you wouldn't have necessarily bet upon before the start of the day. The action was indeed what we were craving after last week's goal bonanza, so it seemed, and so we were treated to a number of fine strikes.
Champions Manchester City had to battle to a 4-2 away win at Hull City after they let slip a two-goal lead. Frank Lampard again proving has hasn't lost the knack of being in the right place at the right time as he scored his fourth goal in four appearances for City and indeed seal a first league win in four games for them.
Manchester United also recovered from the shock 5-3 collapse at Leicester City to record a much-needed 2-1 win over West Ham United at Old Trafford. Manager Louis van Gaal chose to give 19 year-old Paddy McNair his debut in the centre of defence alongside Marcos Rojo with another 19 year-old, Luke Shaw, also making his competitive debut at left-back.
After a quick start from United in which Wayne Rooney scored a sublime half-volley and Robin van Persie scored an angled finish, defensive frailties, in particular David De Gea's feeble attempt at clearing a corner, led to Diafra Sakho heading in from close range to half the deficit eight minutes before half-time. Wayne Rooney was then sent off for a blatant kick-out at Stewart Downing when the midfielder was looking to capture United short at the back. In the captain's absence, 19 year-old debutant McNair stepped up to the plate with a commanding defensive display that belied his years as well as a superb clearing defensive header from a cross that had looked certain to end up in the back of the net.
The two derbies of the weekend, however, failed to live up to expectation. The Merseyside derby never really sparked into life and only produced some moments when Steven Gerrard scored a 25-yard free-kick that curled beyond the reach of Tim Howard to put the Merseyside Reds 1-0 up with 25 minutes remaining. The scoreline stayed the same until the 90th minute when Phil Jagielka smashed in a 30-yard half volley into the top corner at the Kop end. It was a great end to a particularly disappointing derby.
The North London derby between Arsenal and Tottenham was also relatively dull. While quality was short in both boxes, the two sides proceeded to cancel each other out in the middle of the park leading to a unspectacular 1-1 draw.
Hero Award: Phil Jagielka
This award must got to the Everton captain after his stunning injury time equaliser away to Liverpool in the derby. If there was ever a strike and goal that belied a player, this was it. The shot certainly didn't fit the profile of a 31 year-old centre-back with no history of being able to hit the ball with such ferocity. However, credit must be given where it's due and fair play to Jagielka who buried the chance and earned his team a much-needed point after a rather indifferent start.
Villain Award: Wayne Rooney
Another captain award, this time Wayne Rooney earns the villain award for his reckless challenge on Stewart Downing left his team having to battle for a 2-1 home win instead of comfortably seeing out the game and perhaps scoring more goals.
He left his team needed to scrape a win that should have turned into a comfortable afternoon; however, the referee Lee Mason wasn't entirely blameless in the incident.
Team Award: West Brom
West Brom managed to secure a big win on Sunday afternoon with sizeable scoreline over newly promoted Burnley at the Hawthorns. They put on a very good team performance, not allowing Burnley any time or space and finishing with aplomb every time they got anywhere near the Burnley goal.
Goal Award: Graziano Pelle
It was an amazing goal from Pelle to put his side back in front and ultimately seal the win. A graceful bicycle kick that sat up behind the striker and the technique required to hook the ball towards the goal with a power and accuracy required a player of suitable talent.
Guts' Gripe of the Weekend: Saturday's Derbies
The Saturday derbies were…well, how can I put it, a bit rubbish. Not that we expect endless entertainment or anything! However, on a serious note, they failed to live up to expectations and they were not up to standard in terms of the football produced either. All-in-all it was a bit disappointing to see both of them fail to live up to the hope that they could be potential classics.
The Season Starts Now…Again
Manchester United manager Louis van Gaal will be hoping that his side can bounce back from the spectacular collapse at Leicester City last weekend and that indeed the season will start again with a much needed home win over West Ham United.
However, that task will not be easy as the Hammers are on the crest of a wave at the moment following the 3-1 win over Liverpool last weekend and the general novel verve and swagger in a Sam Allardyce-managed team. Also, United's task is made all the harder without a defender that can keep himself fit for any decent length of time lending to a possible defensive crisis for the United manager to contend with.
What is clear is that United have a very good forward line but without the defensive security behind them, there is always the danger of scorelines like the one seen at Leicester. West Ham will look to pounce upon any insecurity there and with the power and pace their forwards now possess along with the confidence boost received last weekend at Liverpool's expense, there is now a real possibility that West Ham could secure the 3 points at Old Trafford.
Get the latest odds on Man Utd v West Ham here
The Merseyside Derby
The first meeting of the Merseyside clubs is this weekend and as ever it is hotly anticipated. However, neither side come into the game in the greatest form with Liverpool managing to scrape through against Middlesbrough in the 3rd round of the League Cup after one of the longest penalty shootouts in English football history and Everton being roundly handed a beating 3-0 at manager Roberto Martinez' former club Swansea City.
Everton have only managed two wins out of their opening seven games while Liverpool have lost the last two Premier League games. Both clubs need the win in terms of their form but form will count for nothing when the whistle blows at Anfield at 12.45pm at Saturday lunchtime. Expect fireworks, goals, controversy and the usual sending off.
Get the latest odds on Liverpool v Everton here
The North London Derby
Arsenal and Tottenham also showdown in the first North London derby of the season at the Emirates Stadium with both clubs looking to gain the upper hand and much like the Merseyside Derby, there is expected to be a fiery atmosphere as well as a game of football that will not only produce the goods in terms of goals and talking points but also in terms of entertainment too.
While a midweek win over Nottingham Forest in the League Cup will go some way to alleviate the slump that Spurs seem to find themselves in as they are without a win in three league games which has also brought two home defeats, it doesn't exactly fully prepare them for showdown with Arsenal this weekend.
Get the latest odds on Arsenal v Tottenham here
Leicester On A Roll
Leicester will look to build upon their magnificent 5-3 comeback win over Manchester United by following it up with a win over Crystal Palace at Selhurst Park. As they are under the spotlight now following that win there is reason to see whether the promoted side can find some consistency in results which will go along way to ensuring they stay up.
Get the latest odds on Crystal Palace v Leicester City here
Geordie Shore Up
Newcastle will want to build upon their morale-boosting win over Crystal Palace in the League Cup in midweek and what better way to do it than travelling to a ground no opposition player wants to play at? Of course, we're talking about Stoke's Britannia Stadium.
Newcastle are desperately in need of a league win as they have three draws and two defeats in five league games. The defence needs plugging as they conceded six in the last two league games and eight in the last three in all competitions.
Stoke will provide a stern test and will frankly be expected to win at home and judging by the seeming improvement in their play, will possibly have too much for Newcastle but the morale-boost of midweek should provide Newcastle with at least a fighting chance.
Get the latest odds on Stoke City v Newcastle here
The first weekend of the Super League play-offs showed us just why the current format won't be missed when it is scrapped next year.

In the two "loser gets another chance" contests, fans were treated to walkovers, as Wigan thumped hopeless Huddersfield 57-4, while St Helens celebrated the night they were presented with the League Leaders Shield by beating Castleford, the team that could have denied them the trophy just a week earlier, 41-0 at Langtree Park.

Contrast that to two gripping contests on Saturday, which saw eighth-placed Widnes almost end Warrington's hopes of a third consecutive Grand Final appearance and Leeds crash out at home to Catalan.
The Wolves were forced to come from 19-6 down at half time to eventually defeat the Vikings, making their first ever appearance in the Super League play-offs, 22-19.

For Leeds, the most successful play-off team in Super League history, a blunder by winger Tom Briscoe in the dying seconds enabled Catalan to record their first ever win at Headingley, stealing it 24-20 at the death.
So the two games that had meaning, the two do-or-die games, well and truly delivered for the Sky TV audience - a stark contrast to the two games before.

Next season, following the re-structure, the play-offs will be limited to a straight shoot-out between the top four - two semi-finals and then the Grand Final.

We're not quite at that stage even yet this season. This weekend, Huddersfield host Catalan while Warrington travel to Castleford. The two winners will then go in to the semi finals to face either Wigan or St Helens, who have first choice over who they want to play at Langtree Park next Thursday night.

The NRL play-offs are a week ahead of Super League, and they saw some unbelievable drama last weekend.
Defending champions Sydney Roosters led 30-0 after 32 minutes, but needed a late drop goal from James Maloney to beat North Queensland 31-30, after the Cowboys had mounted an incredible comeback.

That was followed by a similarly gripping game between Manly and Canterbury. The Bulldogs led 16-6 at half time, but it finished 17-all after Trent Hodkinson and Daly Cherry-Evans traded late drop goals. That took proceedings to extra time, where Hodkinson was successful in a golden point drop goal that meant Canterbury sneaked home 18-17.
The Bulldogs will play Penrith on Saturday, with the Roosters taking on rivals South Sydney Roosters; the winners of those matches will then meet in the Grand Final at Stadium Australia on October 5.
By Natalie Shoebridge, Sydney
It's the week before the Grand Final and we're at that bittersweet time of year again. I mean sure, your team could be one of the four left in contention for the title. Picture it: Glory. Pride. Bragging rights for the next six months. But at the same time, the end of the season means farewelling some of the superstars who are hanging up their boots for the final time -whether it's to be put to pasture overseas or to venture into another career path.
To mark the occasion, here's a list of the players we're going to miss the most:
Sam Burgess
Arguably one of the best forwards the NRL has seen in a long time, there is going to be a notably large hole in the hearts of Rabbitohs fans next year. Sam Burgess is making the move back home to England for a 2015 season with Bath Rugby. The popular Yorkshire lad made the move Down Under in 2010, and after five seasons in the red and green, he has become a core part of the team's leadership group. With unprecedented skill for such a burly bloke, topped off by a knack for deft passes and impressive footwork, he not only leaves his three brothers behind, but a legion of fans who consider him to be what the Pride of the League is all about. Just give the man an NRL premiership ring, already!
Anthony Minichiello
Mr Nice Guy Minichiello has graced our screens since 2000 for the Sydney Roosters and announced his retirement earlier this year as a one-club man. As one of the most consistent and reliable fullbacks of the game, Minichiello's farewell has been a focal part of the Roosters' run to the finals this year; with celebrations of his last home game, finals series and chance for another premiership all central to their 2014 Grand Final campaign.
Todd Carney
Love him or loathe him, 2015 is going to be very quiet without Todd Carney. An undisputedly talented player, sadly it was his antics off the field which always drew the headlines. Carney is moving up to the Catalan Dragons next season, and hopefully he manages to keep his head down and make this aspect of his career a successful one.
Sonny Bill Williams
When Sonny Bill announced he was defecting to rugby union in 2015, I didn't really know how to feel. His disappointing exit from the Bulldogs in 2008 is something that will always be at the back of my mind, but his impressive form and impact on the Roosters' side can't be denied. His is an athlete who would excel in just about any sport and is a genuine pleasure to watch. He's definitely one to keep an eye on, and many clubs would already be queuing to welcome him home if he settles on another NRL stint.
You can find Natalie on twitter at @nat_a_shoe.
1
...
3
4
5
6
7
8
9
...
22