Last weekend saw the annual Battle of Malta poker tournament take place. This year's event broke the record for the number of entries, with 1,813 players going for the €160,000 first prize.
In total, Guts put 49 players into the mix, made up of Guts Ambassadors, VIPs and members of the team. Knut Mo went deepest, eventually finishing the multi-day tournament in 18th place.
Guts Ambassador Silje Nilsen had a deep run and finished in the money. Silje again proved her potential by also winning one of the 2016 Spirit of Poker Awards. Here she is with her trophy…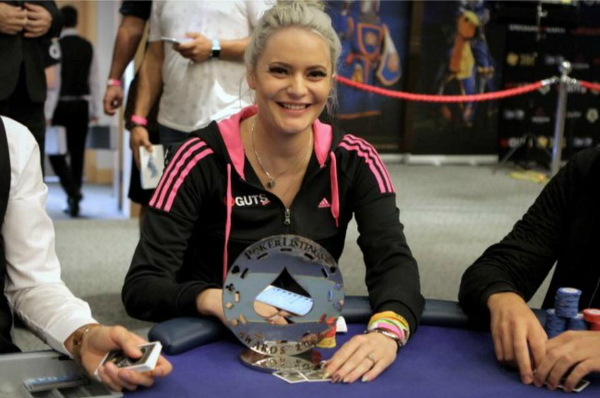 By popular demand! Our
Casino Trivia
is back, bigger than ever and this time around, it's all about the EUROs in France!
As usual, you're rewarded for your knowledge. Answer the daily questions correctly and win free spins – embark on the daily missions and win even grander prizes! There's also a leaderboard, so get collecting points and fight for the top spots (big cash prizes up top)!
So why wait, right? Have a crack at today's
Trivia question
and win
10 free spins
on
Football: Champions Cup
!
"Which national team managed to win the european championships final tournament, despite having failed to qualify for the tournament in question?"
To our island fortress none the less…

Our 3rd birthday celebration lasted for 3 weeks and we dished out 300 000 (!) free spins, 300 cash prizes, before it all culminated in a grand prize draw where we gave away 3 amazing experiences!

The Grand Winner was Andre G from Norway! He gets to enjoy a 3 day island escape to sunny Malta where he'll be wined and dined by the Guts Team. We can't wait and look forward to showing you pictures.

Join us in our next promotion! Huge cash prizes and daily free spins for a whole month! Oh yes, the Guts Trivia section is back – by popular demand – and this time, it's all about the EUROs…
We can't believe we're turning 3 already…Time flies! 3 years ago, we embarked on an adventure together. It's been an amazing journey so far and we would like to thank each and everyone of you, our valued and cherished players, for making it so memorable.


Sentiment aside, Guts.com is turning
3 years old
on May 22nd and the time has come to celebrate! Join us in a 3 week long birthday celebration with plenty of party favours! Check this out:
3 weekly reload bonuses
300 000 free spins
300 cash prizes
3 grand prizes
3 is indeed the magic number in the coming weeks here at Guts! Visit our
Birthday Page
for the latest info. After you've watched that cool video, scroll down to find the freshest reload bonuses, promotion details and more.
Fans worldwide are buzzing over the rumored reunion of legends of rock, Guns and Roses. Having sold over 100 million albums worldwide, it's an understatement that Slash, Axl and Duffy have an enormous fan base. It's now confirmed that the troubled band will be headlining the 2016 Coachella Festival in March…
There have been hints about the band reuniting here and there for a while and we're about to present another one to you right here: NetEnt is releasing the Guns N' Roses Video Slot the 21st of January! Paradise City, here we come! We've had a sneak preview of the game, and my, my, my, you're in for a spectacle!
The intro video sets the tone and as you feel the hairs raise in the back of your neck, you select your favourite Guns N' Roses song from the Set List (5 classics in the set: Welcome to the Jungle, Sweet Child O'Mine, Paradise City, November Rain and Chinese Democracy). And then you spin…
The design is just amazing and you get the feeling that you're at a rock concert, rather than playing a video slot. It almost feels wrong to give you the nuts and bolts of this piece of art, but Guns N' Roses is actually a fairly basic 5 reel, 3 row, 20 line slot. However, it's a perfect fit for this one.
The premium symbols feature band members Axl Rose, Slash and Duff (get them in a win and they pop out of your screen!). There are to middle symbols shaped like guitar picks and the lower symbols are the usual suspects 10, J, Q, K A draped in roses.
Now then, here comes all that's not basic about the slot, and it's a lot. First of all, there's a wild symbol. But it's not just a wild symbol, it freakin' expands, covering the reel. Hell yeah, baby! There's also a bonus symbol on reels 1, 3 and 5, but we'll get back to that. First, let's take a look at the 3, yes 3 awesome, random features in this slot. Welcome. To the Jungle!
The Appetite for Destruction Wild Feature sends out up to 5 wilds shaped as a cross in the middle of the slot (reels 2-4). It works sort of like the "Beefcake" feature in South Park and is sure to bring a big win! Get a couple of expanding wilds on reels 1 and 5 and it looks like this:
Activate the Legend Free Spins and enjoy 3 free spins! 1st spin: Reel 3 is wild. 2nd spin: Reels 1 and 5 are wild. 3rd spin: Reels 2 and 4 are wild. Legend….wait for it….dary!
Lastly we have the Solo Multiplier, which multiplies your win by 4x-10x. Big Win City!
But there is more! Get Bonus symbols on reel 1, 3 and 5 and unlock the Bonus Wheel which is (of course) a record player. The 3 Bonus Features are Coin Wins, Encore Free Spins and the Crowd Pleaser Feature (point and click). We'll leave these bonus features in the dark for now, to keep you guessing, but let's just say they will not disappoint you!
Guns N' Roses will be launched in the Guts Casino on January 21st. We can't wait!
The final Grand Prize Draw in our October Deposit Lottery was just held here at the Guts Headquarters and we have some BIG cash winners! *Drumroll*
1st
- Jane
R - Australia -
$2,200
2nd - Linda
S
- Norway -10,000kr
3rd - Simon
S
-
Australia - $750
4th - Hugh
R
-
Australia - $750
5th - Alexei
P
-
Canada - €500
6th - Anders
C
-
Norway -5,000kr
7th - Risto
H
-
Finland - €500
8th - Tuula
O
-
Finland - €100
9th - Brett
J
-
Australia - $150
10th - Rob
H
-
Norway -1,000kr
11th - Matti
A
- Finland -
€100
12th - Jani
T -
Finland - €100
Huge congrats to all our cash winners and a Happy Halloween to all!
We held a new mini-draw in our October Deposit Lottery and a whopping
100 players from around the world won 100 free spins
each on
Pyramid: Quest for Immortality!
Check if your name is on the list and don't forget to grab your tickets for our Grand Prize Draw. Every €20 you deposit gets you 1 ticket and the draw is a mere week away!
Dougie C from Australia
Gunn Mari F from Norway
Dominic K from Australia
Tennielle T from Australia
Ahmad N from Australia
Menno S from Netherlands
Anita K from Australia
Jean D from Canada
Feiteng L from New Zealand
Rebecca P from Australia
Gregory M from Australia
Mikko H from Finland
Amber J from Canada
Sara S from Australia
Kylie S from Australia
Marita R from Norway
Lamberdina J from Norway
Connie K from Canada
Michelle P from Australia
Jeffrey H from Australia
Kiel W from Australia
Robert D from Sweden
Dennis T from Australia
Rishi K from India
Erik Dahl L from Norway
Kristina M from Australia
Kenneth A from Norway
Matthew W from Australia
Jussi L from Finland
Danielle R from Finland
WADE N from Australia
Scott A from Australia
Janice M from Canada
Anders N from Sweden
Leonard S from Canada
Jani K from Finland
Nicole B from Australia
Nick C from Australia
Tanawan J from Sweden
Usa A from Sweden
Tina D from Australia
Diana F from Australia
Gina M from Australia
Heather G from New Zealand
Paul B from Netherlands
Sharyn K from Australia
Gard B from Norway
Bradlee K from Australia
Paula H from Finland
Rauno I from Finland
Darren G from Australia
Giovanni M from Australia
Elena W from Australia
Adam C from Australia
Toni H from Finland
Diane R from Canada
Allan M from Australia
Susan B from Great Britain
Chelsea B from Australia
Matt S from Australia
Roberto A from Norway
Jamie L from Australia
Terry W from Australia
Michelle K from Great Britain
Erkki K from Finland
Martin B from Great Britain
Evie S from Australia
Marcus M from Australia
Christer H from Sweden
Sirkka H from Finland
Sally C from Great Britain
David A from Australia
Katie S from Australia
Dwayne w from Australia
Kallie S from Australia
Christopher C from Australia
Adam O from Australia
Claudia S from Australia
Christopher R from Sweden
Shane D from Australia
Trond M from Norway
Kacem T from Norway
Puimen T from Australia
Steven S from Australia
Tomas U from Sweden
Martin G from New Zealand
Cristin F from Australia
Marina D from Sweden
Daniel K from Australia
Christina B from Australia
Milica P from Australia
Dennis B from Sweden
Brittany S from Australia
Cory B from Canada
Mikko K from Finland
Emelie S from Sweden
Joseph D from Australia
Sean Michael B from Australia
Stacey L from New Zealand
Kim A from Australia
The second mini draw was just held here at the Guts office to standing ovations! Each winner has been credited with €100 and the lucky winners are:

Syed A from Norway

Werner B from Finland

Ingela F from Sweden

Olesya S from Cyprus

Gunn M from Norway

Harri M from Finland

Heikki L from Finland

Jerry L from Malta

Christian T from Norway

Synjon F from Australia

Felix A from United Kingdom

Mikko K from Finland

Dora B from Australia

Marcus L from Sweden

Sissel N from Norway



Congrats to all our 15 winners! Make sure you enter our October Deposit Lottery as well, simply by depositing in October! Every €20 (£20, $20) you deposit gets you 1 ticket in our final mini draw AND 1 ticket in the Grand Prize Draw at the end of the month.

Have a fantastic weekend!
Our first mini-draw in our
October Deposit Lottery
was just held and two lucky players won Apple Watches (Stainless Steel Case with RED Sport Band)! Congrats to:
Satu M from Finland
Jorj S from Australia


We'll another mini draw next Friday and the Friday after that, before it all culminates in the Grand Prize Draw at the end of the month. You get 1 ticket in the next mini draw AND 1 ticket in the Grand Prize Draw for every €20 you deposit in October. Read all about the promotion
here
.

Happy Friday!
Deep under the sea lures a mythical beast - and tons of treasure! Get ready for a thrilling, spine-chilling underwater quest in Play'N Go's
Eye of the Kraken
.
Play'N Go really outdid themselves with this one. We absolutely love gloomy, daunting soundtrack, the design and the fresh format: 3 reels, 3 rows and 8 lines. That might not sound like much, but trust us: It's different, it's retro and it's awesome! Apart from the 8 pay lines, there's also 2 position bonuses for getting the same symbol in all corners (10x) and in a "cross" (5x).
The lower case symbols depict boots, an oxygen tank and a harpoon. The middle symbols are a compass and the diving helmet, which is also a scatter. You'll get paid for scatters, which we love. The high symbols are 3 crewmembers and the torpedo, which plays an important role in this game.
Apart from being the highest paying symbol, the torpedo will get you a huge bonus game, once you've collected 50 of them.
Battle the Kraken
in this point-and-click bonus game and win up to 500 times your bet! There's 6 treasure chests and you get to choose 3 of them.
Now then, about the diving helmet scatters, you need 5 of them to win 9 free spins. The free spins mode includes a few cool features. First of all, the
Eye of the Kraken Wild
opens up a world of possibilities, but the real goal is to collect treasure chests. If you get 9 treasure chests, you'll get a huge 150x your bet!
Finally, there's the
Wild Kraken Tentacles
feature which appears randomly, but frequently. Not only is the feature super cool graphically, it potentially covers the board with wilds!
Why Wait? Dive deep under the sea and defeat the kraken! As always here at Guts, added value is just around the corner! We're running a deposit lottery in October, with €10,000 worth of fantastic prizes. Read more about our October Deposit Lottery
here
.