UCOP2017
Become The Greatest Poker
Player in the Universe!
€750,000 Guaranteed
Download for mac
Download for windows
The third annual Universal Championship of Poker series - 59 tournaments, €750,000 guaranteed and one ultimate champion!


Show your Guts and crush the UCOP leaderboards!
There'll be two leaderboards. One €10,000 leaderboard for players where you get points per this formula: Tournament buy-in amount * (total entrants / your finishing place in the place). The winner takes home €5,000 and the Greatest Poker Player in the Universe 2017 trophy!
And we'll have one €5,000 Great Players leaderboard. Stream your play during the series on Twitch, YouTube or Facebook Live and grab your share of the cash. Points are awarded for the Great Players Leaderboard as follows:
• Each event streamed = 100 points
• Players must tweet @ThrillOfPoker with a link to their stream.
• Player's poker alias and poker room must be clearly visible.
• Stream must be publicly accessible worldwide.
• Recorded stream must be accessible after the event has completed.
Most interesting daily stream = 250 points
• Awarded at the network's discretion, the player with the most thrilling stream each day of the series will win 250 points. The award may be given to the player with the best commentary, highest quality stream, best promotional gimmick, or anything else deemed to contribute to an exciting stream by MPN management.
Final table bonus = 50 points
• Awarded to players who stream a final table and can be won once per each event final table streamed.


Universal Championship of Poker Schedule first half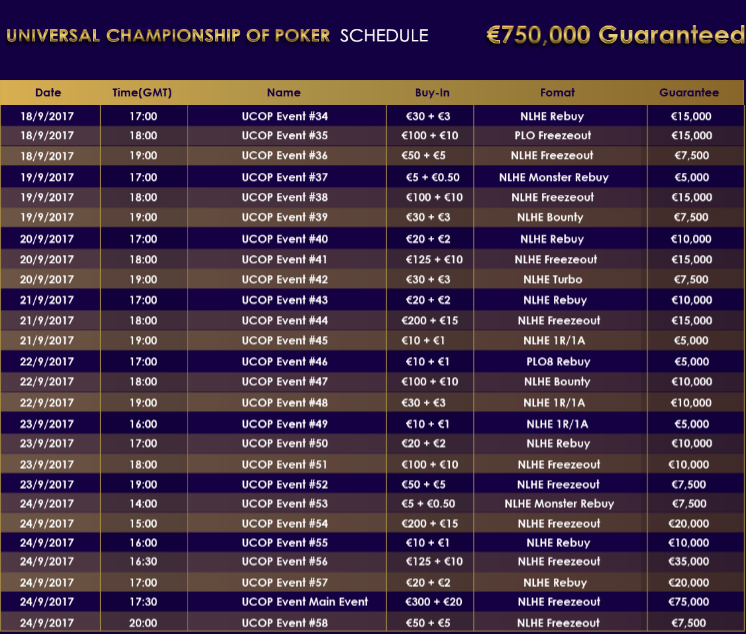 TERMS AND CONDITIONS ▼
1. The promotion runs from September 10th until September 24th 2017.
2. We reserve the right to cancel or amend any instance of any network tournament at any time.
3. No alternative prizes will be offered.
4. You may not create more than one account at Guts Poker. If you do, you will forfeit all prizes and you risk closure of all your accounts.
5. If you collude or otherwise behave unethically at any time, you will forfeit all prizes and you risk closure of your account.
6. We reserve the right to withdraw the promotion at any time.
7. In addition to these rules, all Guts Poker's Terms and Conditions also apply.
8. Only Events 1 to 58 and the Main Event of the Universal Championship of Poker count towards the Greatest Poker Player in the Universe leaderboard and the Great Players leaderboard. For the sake of clarity, no satellites count towards the leaderboard.
9. A player can receive a maximum of 10,000 points from any one event on the Greatest Poker Player in the Universe leaderboard.
10. Because there can only be one Greatest Poker Player in the Universe, in case of a tie for first place, the winner will be the player who won most money in UCOP. In case there is a tie for any other leader board position, the prizes will be divided equally amount the tied players.
11. Because great players make their opponents welcome, if you use the chat to abuse your opponents at any time during UCOP, you may be disqualified from the Greatest Poker Player in the Universe and/or the Great Players promotion.
12. If you win the Greatest Poker Player in the Universe title, you consent to MPN and your poker room to use of your real name, location (city/country), likeness, and other publicly available information about you. The aforementioned items may be used in any media for marketing and publicity campaigns relating to UCOP.
13. Leaderboard prizes will be awarded by 23:59 GMT on 2 October 2017.
14. All other Guts.com terms and conditions apply.
claim now