The third part of our Football XI series, this version will focus upon creating a football XI based on Disney characters. The footballers featured, will of course consist of football's greatest and football's…journeymen. It will, however, be an XI that, when it steps out over that white line, will give it's all to the cause!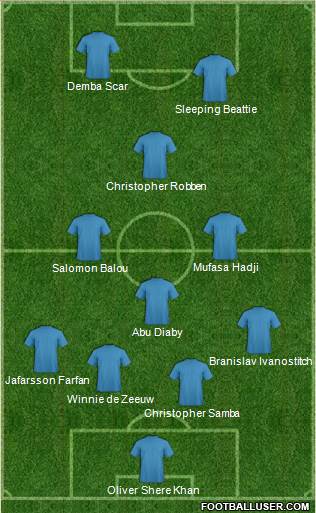 MANAGER – King Louie van Gaal
King Louie is of course the manager to implement a 'philosophy' within this side and will work wholeheartedly to ensure that the team doesn't make any cartoon errors and instead produce some stunning football along with some stunning results.
GOALKEEPER – Oliver Shere Khan
Kahn is the epitome of a crazy goalkeeper. The former German international enjoyed a stellar career and was obviously a tiger when put in a 1v1 situation with strikers. Of course, he is best remembered for being the goalkeeper of German giants Bayern Munich where he won numerous honours and also proceeded to frighten the life out of opposition strikers.
RIGHT-BACK – Branislav Ivanostitch
Known as one of the Premier League's staple right-backs and of course a dead-cert in any Jose Mourinho team. Despite standing at 6ft 1in and considered to be a very solid defender, he sometimes displays an unwanted side to his game involving some unsavoury antics; very Stitch like!
CENTRE-BACK – Christopher Simba
Also known as a big and athletic defender of some European pedigree. He has graced numerous clubs including Blackburn Rovers, Queens Park Rangers, Anzhi and currently, Dynamo Moscow.
CENTRE-BACK – Winnie de Zeeuw
A strong Dutch defender, de Zeeuw is a player who graced the lower leagues before reaching the holy grail of Premier League football for Portsmouth under Harry Redknapp in 2004 and then Wigan in 2005.
LEFT-BACK – Jafarsson Farfan
Probably viewed as an unusual position for Farfan who, considered an outrageously fast winger, is probably not used to being tasked with left-back duties. However, considering his engine, he's considered to have the stomach for the role.
CENTRE-MIDFIELD – Mufasa Hadji
Hadji is a name that harks back to the days of Graham Taylor at Aston Villa and Gordon Strachan at Coventry City. Hadji, of course, played for both Midlands clubs and became somewhat of a cult hero.
CENTRE-MIDFIELD - Abu Diaby
Diaby has been plagued by injuries for a number of seasons and of course has been out of the running in Arsenal's midfield allowing for players to move ahead of him in which he has now become somewhat of a squad player within the Gunners squad.
CENTRE-MIDFIELD – Salomon Balou
He simply had the bare necessities to make it at a club like Chelsea while scoring a number of goals for them in quite important games too. While scoring regularly in Holland for Feyenoord brought him to the attention of Jose Mourinho in 2006, he never quite nailed down a permanent spot within the team while in his best season he played 41 games and scored 13 goals in all competitions.
FREE-ROLE – Christopher Robben
Robben is one of the world's best players. When on form, there are relatively few people apart from maybe Lionel Messi and Cristiano Ronaldo who can scare defenders when running with the ball. As he displayed in World Cup 2014 for Holland, the free-role suits him down to the ground.
CENTRE-FORWARD – Demba Scar
A powerful centre-forward he gained a reputation for bulldozing his way through defences, particularly for Newcastle. At Chelsea, he didn't quite reach those heights but he is still a danger when given chances.
CENTRE-FORWARD – Sleeping Beattie
Beattie has always been a bit of a battering ram centre-forward, well he was, until he retired that is. He often appeared to be sleeping until he pounced on a defensive mistake and then a bullet header would fly into the net.
Categories: soccer